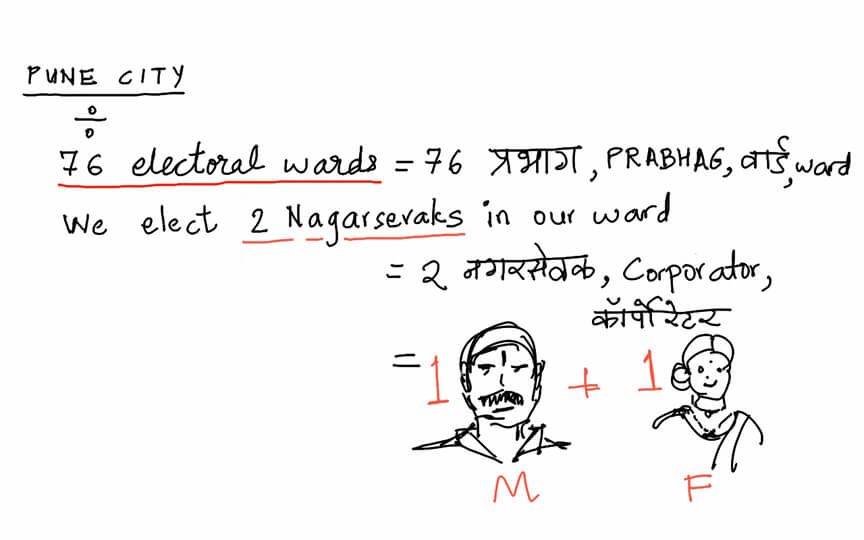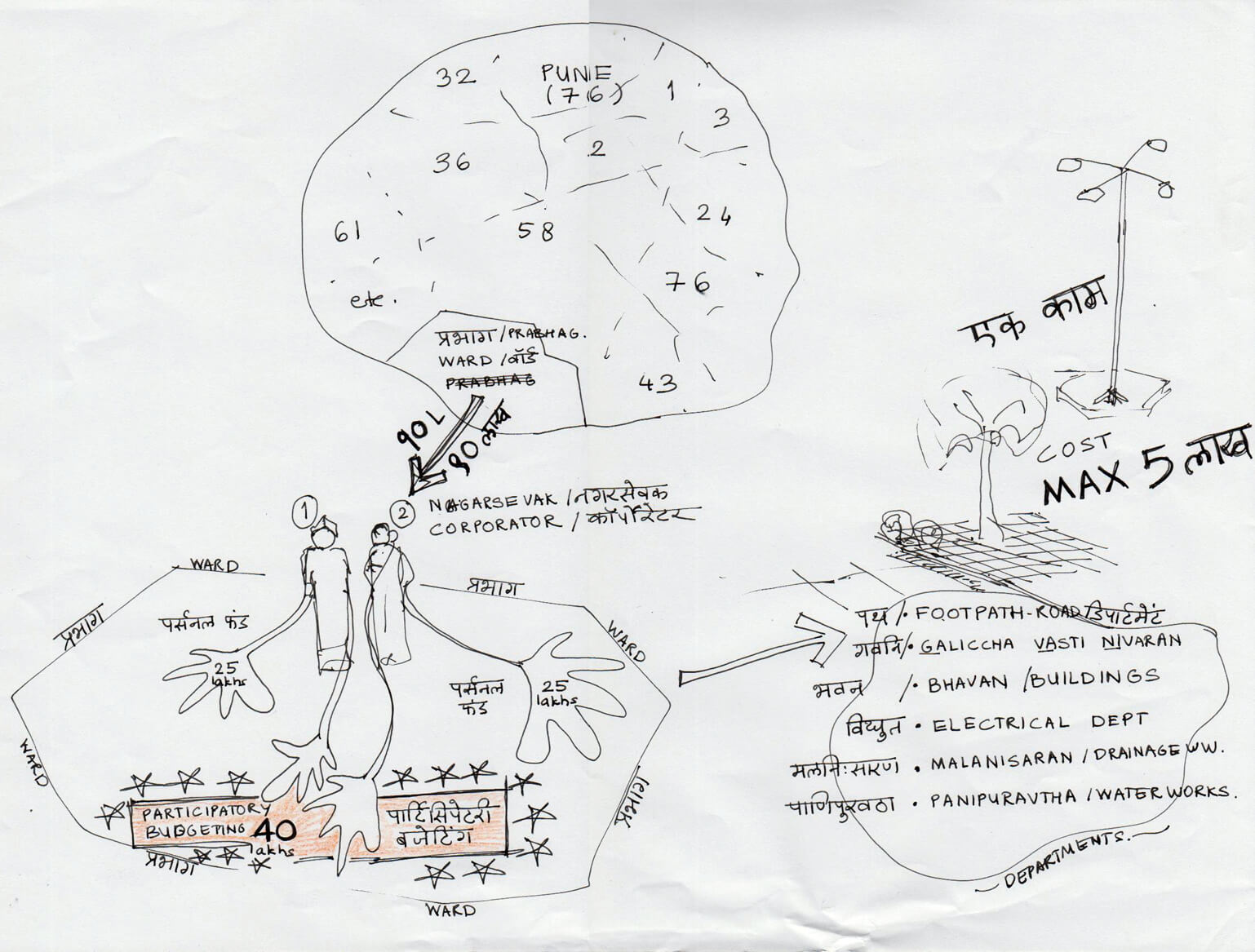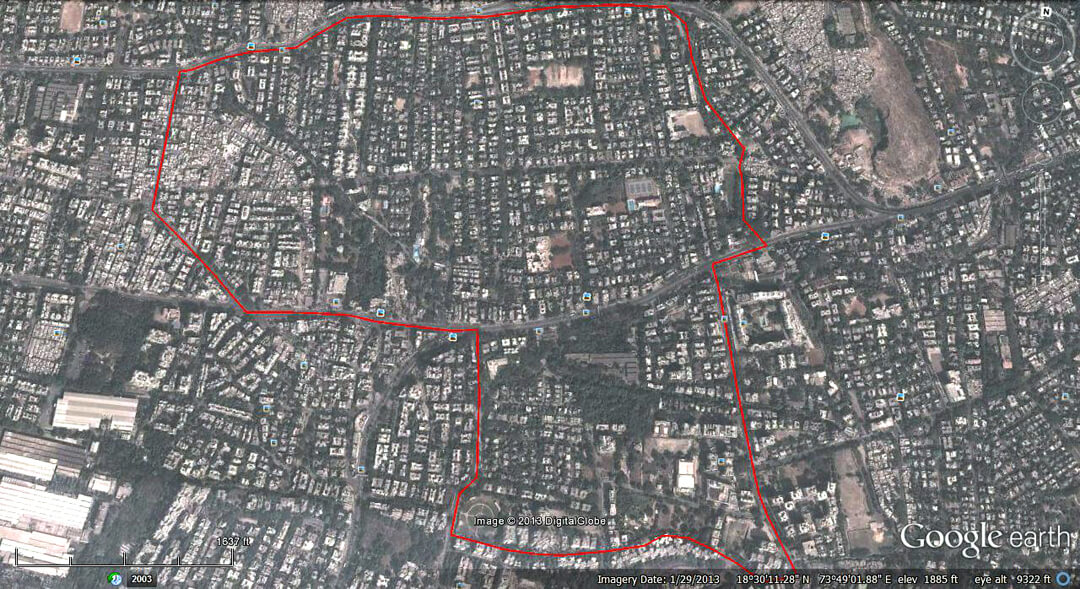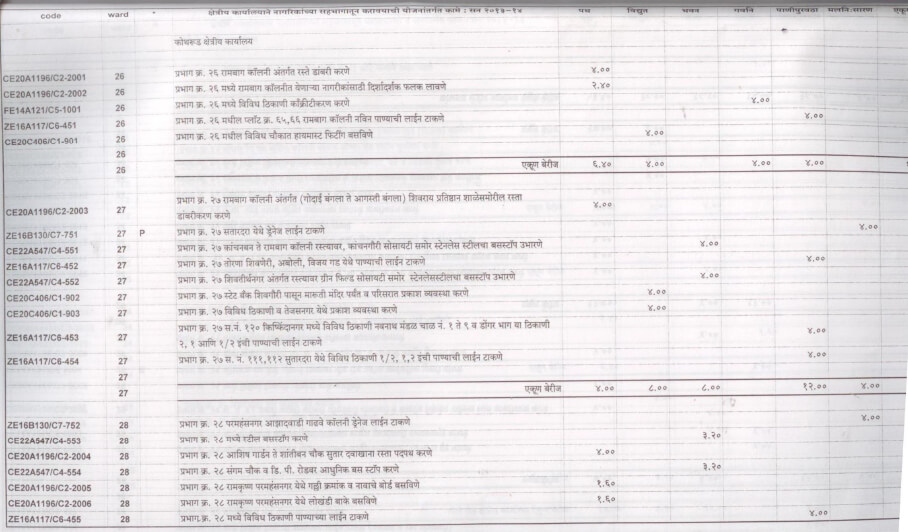 Participatory Budgeting And Ward Level Civics
Participatory budgeting is a process by which people living in an area can participate and demand for works in their locality.This is a process which was introduced to bypass the lacunae in the existing system of elected corporators.
Lacunae:
Lack of participation of citizens in day to day running of their own localities. Many corporators are not in touch with ground realities. Citizens feel alienated from civic matters. They only participate to put their vote during elections. The rest is left for corporators to manage throughout the year.Citizens complain about problems but do not wish to run pillar to post to get things done via the corporator/democratic process.Small demands of citizens like footpaths, nameboards, lights, benches, road improvements requires one to meet the corporator, for him to get a budget sanctioned and so on and so forth. Citizens do not usually know how much money is available for development in their locality, and how it is being spent.
Many people (like me!) are unaware of our exact ward boundaries, who our elected representatives are, where our ward office is!
Participatory budgeting (PB):
PB makes it mandatory to do certain spending in a ward exactly as per citizen's demands within one financial year.Demands are given by citizens through forms which are available online, or at the ward office. Simple works like concrete roads, footpaths, lamp-posts, benches, nameboards etc are suggested by citizens like you and me. These suggestions are given in the monh of August. The suggestions get sifted through, and then approved in the financial planning for the next year in February.Names of citizens who have suggested, amounts required for the work, total number of works are available in a list form for all to see.It is an excel sheet which is published at the start of every year.
Money involved:
40 lakh rupees per ward(Prabhaag) are granted every year for developmental works. This is over and above what the PMC budgets for city works. It is also over and above what corporators get as a personal fund to spend within their wards. One ward( Prabhaag) consists of a population of approximately 40,000 people.
Ward level civics:
Pune is divided into 76 Prabhaags. Please note, these are not wards. These are pra-bhaags. 5 prabhaags together make up a ward. Ex: Kothrud, Warje, Bibwewadi,Tilak road are wards consisting of smaller prabhaags.
Prabhaag is the electoral area from which we elect 2 Corporators, also known as 'Nagarsevak'. One male and one female is elected.
Administration however happens at the ward level which is a larger area. Hence the ward office is a place where 10 corporators ( 2 from each prabhaag)sit and work together. The executive wing of the PMC is headed by the Commissioner of Pune also known as 'Ayukta' in marathi. He is supported by assistant commissioners also known as 'Sahayyak Ayukta'. The Sahayyak ayukta sits at the ward office and has a team of junior engineers and staff from various departments. Our PB forms are handed over by corporators to the sahayyak ayukta who then makes the excel sheet. He knows the costs involved in each of those works and hence he is able to judge which can be taken up, and which cannot.
Money available in one Prabhaag:
We looked at the PB budget which is an excess amount handed over to every prabhaag. The PMC gives 50 lakhs of rupees to 2 corporators in one prabhaag. Thus each corporator has 25 lakhs in his hand as a budget which comes from PMC and another 20 lakhs which is from PB.
A total of 90 lakhs of rupees is spent in one prabhaag in one year. Luckily, PB allows us to define the use of 40 lakhs beforehand, because it is in our hands to demand what we wish and to ensure that it is being done. Rest of the budgeting of PMC is an extremely complicated process, and it is not freely available for everyone to participate in, Even though it gets published at the start of every year.
Credits: CEE, Avinash madhale, Sanskriti Menon.